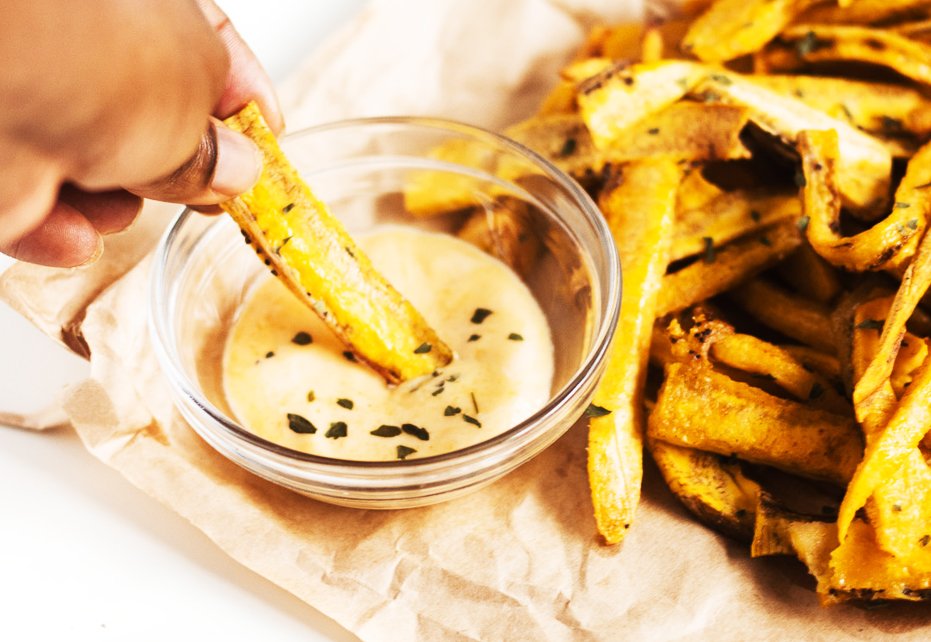 Baked Plantain Fries Recipe
These crunchy, golden baked plantain fries are a great option to potato fries. Spicing them very lightly with turmeric and ground black pepper allows their natural deliciousness to shine through. You can also make these fat-free.
If I could eat with my eyes, I would gain 20 pounds just looking at these golden, crunchy baked plantain fries.
Lucky for me, I didn't have to — just eat with my eyes, I mean, or gain the 20 pounds. I could eat them hot out of the oven and not feel guilty at all because they are baked. Even better, I know plantains are great for me and packed with fiber, so weight gain, buh-bye.
Plantains, here in the United States, are often associated with Latin-American cuisine. But they are widely eaten in India as well. My mom would coat them in spices, dredge them in some sooji or cream of wheat, and pan-fry the plantains to golden perfection. I sometimes make roasted plantain chips to eat with dinner or for a snack. In south India, plantains are made into a tasty curry tossed with spices.
Because plantains have a high starch content, they are perfect for roasting in the oven. The natural sugars in the plantains caramelize and turn the fries golden brown and crispy on the outside, while keeping them tender on the inside.
 The delicious flavor of plantains is a great reason to chow down on them, but if you need others, there are many:
Plantains are a great source of Vitamins A and C and potassium, making them very heart-friendly food. You could, in other words, "heart" plantains and really mean it!
They are packed with fiber, and therefore great for your digestive system.
They are a decent source of calcium, which keeps your teeth and bones healthy
And now for the recipe for these easy and tasty and golden and crunchy Baked Plantain Fries. Happy cooking!
2 green or raw plantains, peeled and cut into sticks, like fries*
½ teaspoon turmeric
½ teaspoon paprika
½ teaspoon ground black pepper
½ teaspoon sea salt or pink salt
1 tablespoon vegetable oil (olive, coconut, avocado are all fine here) (To make these fat-free, toss with 2 tablespoon vegetable stock instead of oil. Your fries won't be as golden but will be delicious).
Preheat the oven to 425 degrees.
Place the plantain fries in a large bowl. Toss with the remaining ingredients.
Place the fries on a baking sheet, making sure they do not overlap.
Bake for 20 minutes, turning the chips over once halfway through baking.
Remove and serve hot. I serve these with some magic cheesy sauce and a sprinkling of chopped coriander leaves.