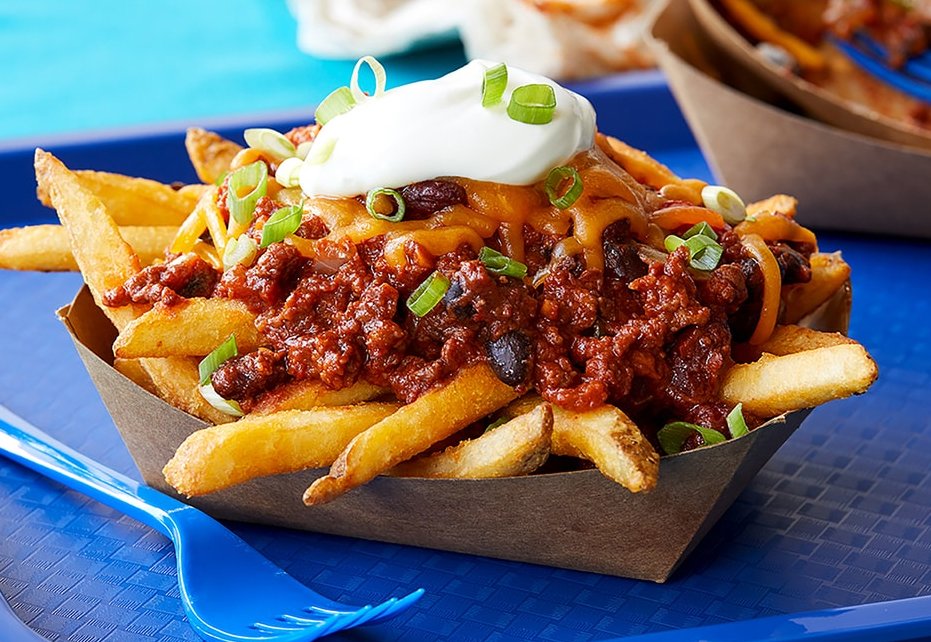 Vegan bean chilli fries
Treat family and friends to Mexican-inspired loaded fries. This plant-based dish is great for entertaining, whether for a movie night or party.
Cook the French fries following pack instructions. Meanwhile, heat the olive oil in a frying pan and fry the onion for 10 mins. Prepare the guacamole by mashing the avocado and mixing in the lime juice, red onion and chopped tomato.
Add the garlic, chipotle paste, ground cumin and ground coriander to the onions, which should be softened and translucent. Fry for 1 min, then tip in the mixed beans and the chopped tomatoes. Simmer for 10 mins, then stir in most of the coriander and season. Tip the fries into a bowl and top with the bean chilli, guacamole, crème fraiche and crispy fried onions. Scatter over the remaining coriander and serve with lime wedges.
400g frozen French fries
2 tbsp olive oil
1 finely chopped onion
1 ripe avocado
½ lime, juiced, plus wedges to serve
½ finely chopped small red onion
1 finely chopped tomato
1 crushed garlic clove
½ tbsp chipotle paste
½ tsp ground cumin
½ tsp ground coriander
400g can mixed beans, drained
½ 400g can chopped tomatoes
½ chopped small bunch of coriander
2 tbsp dairy-free crème fraîche
2 tbsp crispy fried onions