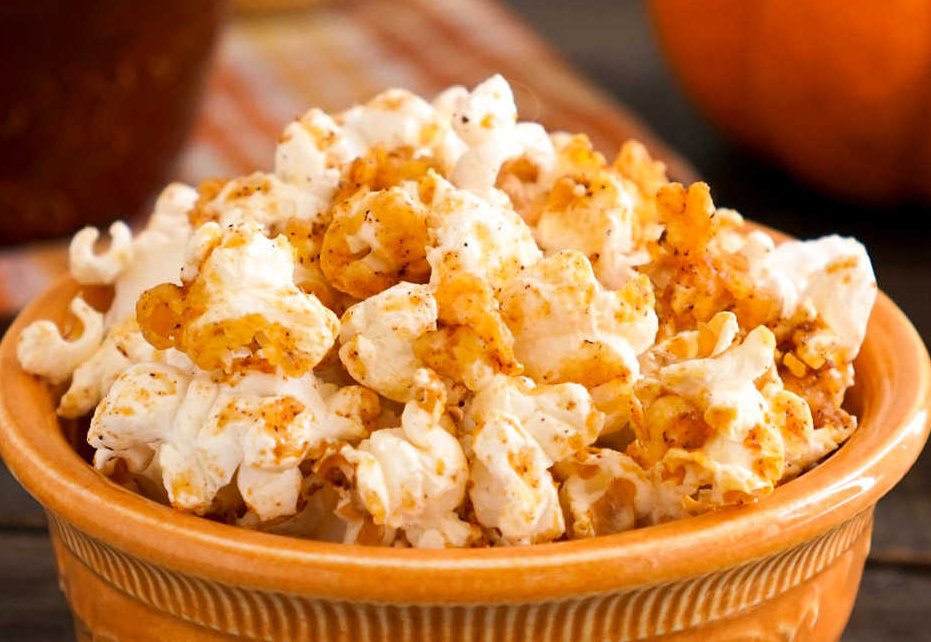 Pumpkin Popcorn Recipe
Combine the topping ingredients in a small pot, and then drizzle them evenly over the popped popcorn before roasting. To get the best texture on this maple pumpkin spice popcorn, make sure to spread the mixture evenly across all the popcorn. If you pour it quickly onto a small number of popcorn pieces, they'll get too soggy to roast properly.
You can substitute pumpkin pie spice for the cinnamon if you'd prefer. Feel free to add a dash of ginger, nutmeg, cloves, or other seasonings to suit your tastes. I recommend using organic kernels when possible. You can use butter instead of coconut oil if you aren't interested in making a dairy-free version of this pumpkin popcorn.
I like to pull out two cups of plain popcorn before adding the topping. This stretches the batch a bit, but if you'd prefer, you can make a little extra topping and glaze all the popcorn.
Let the popcorn cool before transferring it to an airtight container for room temperature storage. This snack barely lasts a day in my house!
Visit this post for other variations on coconut oil popcorn. There are so many different topping flavors for this frugal snack!
Preheat the oven to 325 degrees.
Pop the popcorn using an air popper or other method. We use this hot air popper.
In a small saucepan, combine the oil, syrup, pumpkin puree, cinnamon, and salt. Cook over medium heat for a minute or two, stirring until all the ingredients are combined. Set aside to cool a bit.
Measure two cups of plain popcorn and set aside.
Put the remaining popcorn in a roasting pan. Slowly pour the pumpkin mixture over the popcorn and stir until evenly covered. Alternately, you can brush the mixture onto the popcorn with a pastry brush for even coating.
Bake for 6 to 8 minutes, stirring every few minutes.
Let the popcorn mixture cool. The glazed pieces of popcorn will harden as they cool.
Stir the plain popcorn into the pumpkin-glazed popcorn mixture and serve.
INGREDIENTS
1/3 cup popping corn kernels yields about 10 cups popped
2 tbs melted coconut oil
2 tbs maple syrup
1 tbs pumpkin puree
1/4 tsp cinnamon
1/2 tsp salt