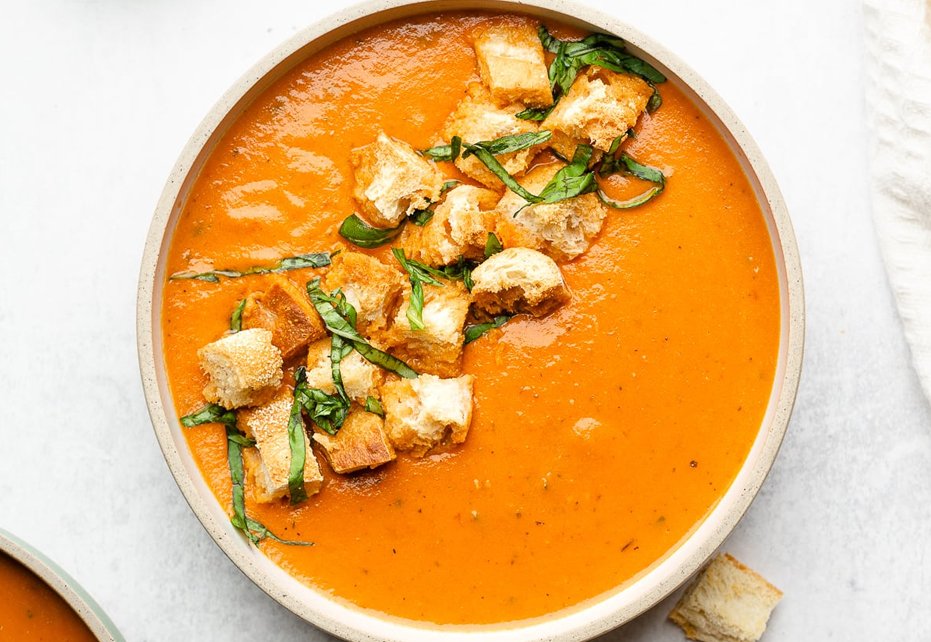 Easy Vegan Tomato & Basil Soup Recipe
This vegan tomato and basil soup is one of my favorite soups ever and you'll understand exactly why after you taste it. As you might have noticed, I'm not really a big fan of complicated recipes that take hours to make.
I think that creating truly delicious meals is a result of carefully selecting quality ingredients, and choosing the right herbs/spices to go with them.
This soup proves that sentiment perfectly. What's in it? Pureed tomatoes, onions, spices, herbs, pasta, salt and water. I mean, that doesn't sound very appetizing, does it? And yet, when you combine these ingredients and cook them together, the result is a mouthwatering and heart warming deliciousness.
You can even grate some vegan cheese on top to make it EXTRA cozy!
Talk about healthy comfort food, though.
The basis of this soup is completely clean eating. BUT, even if you add some veggie whole wheat tortellinis (you should!!!), it becomes the best soup ever.
It's like the liquid manifestation of a hug.
There is really no knowledge or skill needed to make this recipe. If you know how to cut onions and cook pasta, you're all set. Also, just make sure you taste the soup while it's cooking and add salt/pepper if needed.
Fry the chopped onions in 1 tbsp oil for a few minutes until they turn light brown.
Add all the ingredients to a small soup pot. Stir and cover.
Cook for 25-30 minutes. Taste while cooking.
Use a hand blender to make the soup extra smooth and creamy.
Add the tortellini pasta and top with a generous amount of chopped fresh basil.
1 tbsp olive oil
1/2 head onion chopped
2-3 small clove garlic
25 oz pureed tomatoes
12 oz water
1 tsp basil dried
1/2 cup fresh basil (chopped)
1 tsp thyme dried
2 tsp salt
0.5 tsp black pepper ground
3 cup tortellini pasta (cooked)