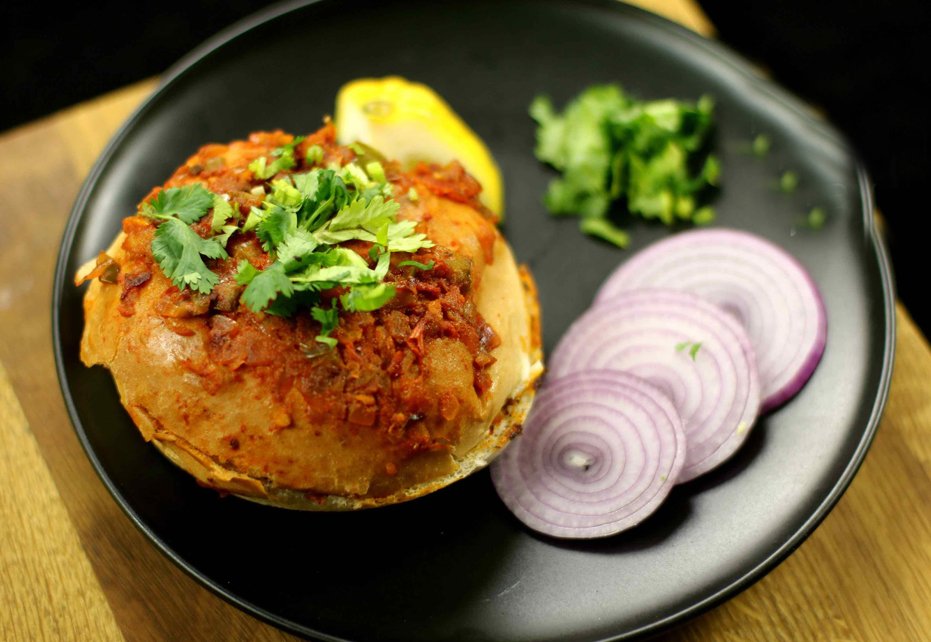 Masala Pav Recipe
Step 1 Prepare the masala
Heat 2 tbsp butter in a pan. Add ginger paste, garlic paste and saute for a minute. Now add chopped onion and fry for another two minutes. Now add chopped tomato and capsicum. Add all the spices, turmeric, pav bhaji masala, red chilli powder, salt, coriander powder and mix well. Cook the mixture for 5 minutes. Use a masher to lightly mash the mixture. Garnish with coriander leaves and turn off the flame.
Step 2 – Roast the pav
Heat 2 tbsp butter on a tawa. Cut the pav in half and roast from all sides until crisp and golden brown in colour.
Step 3 – Add the filling and serve
Fill the stuffing in each pav equally along with some crushed roasted peanuts. Enjoy with the chutney of your choice.
4 pieces pav
1 small tomato
1 teaspoon pav bhaji masala
1/2 teaspoon red chilli powder
salt as required
1/2 teaspoon coriander powder
1 teaspoon ginger paste
1 small onion
1 small capsicum (green pepper)
1/2 teaspoon turmeric
4 tablespoon butter
2 tablespoon coriander leaves
1 teaspoon garlic paste
2 tablespoon roasted peanuts