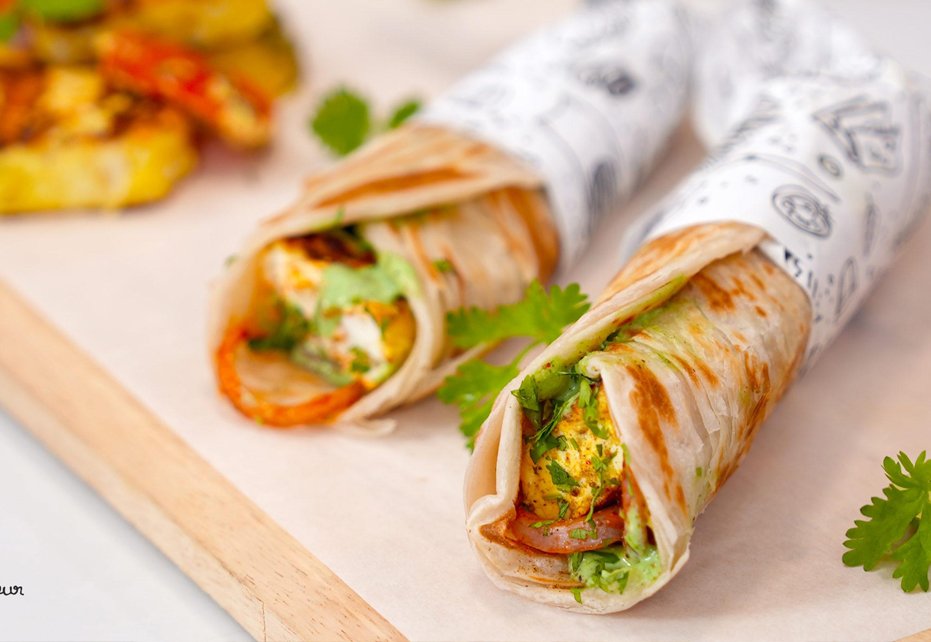 Paneer Kathi Roll Recipe
Mix all the marinade ingredients in a bowl. Add paneer and mix well.
Heat 2 tablespoons of oil in a pan. Add onions, peppers, and ½ teaspoon of salt and cook for 3 to 4 minutes. Add marinated paneer and mix well. Cook for another 3 to 4 minutes. Turn the heat off and garnish with cilantro.
Blend all the chutney ingredients using 2 tablespoons of water to make a smooth sauce. Note: Add more water as needed, a little at a time.
Heat a non-stick griddle pan. Remove the Kawan paratha from the plastic wrapping and place it on the griddle. Cook on medium-high heat for about 1 to 1-½ minutes on each side or until both sides are golden brown, pressing gently with a spatula.
Ingredients
Paneer – This Indian Cottage cheese can be made at home using just 2 ingredients – milk and lemon juice. Here is my homemade paneer recipe. Although, oftentimes I find myself using store-bought paneer (Gopi or Haldiram brand) for convenience. It is sold in Indian grocery stores, Wholefoods, and Costco.
Mixed Bell Peppers – I like red and green as they offer a nice contrasting color with sweetness from red and a mildly bitter flavor from green. You can use any peppers you have on hand
Red Onions – In addition to the sweetness of sauteed red onions, I love the beautiful red hue it adds to the filling. I also love adding thinly sliced raw red onions while serving for some crunch
Spices – Kashmiri red chili powder, ginger, garlic, garam masala, turmeric, Kasoori methi, and salt
Green Chutney – Homemade or store-bought green chutney
The nutrition info does not include the calories and carb count for the parathas. For a Low Carb option substitute Kawan Parathas with low carb tortillas. Misson brand makes many varieties of soft low carb tortillas and are available in mostly all grocery stores.