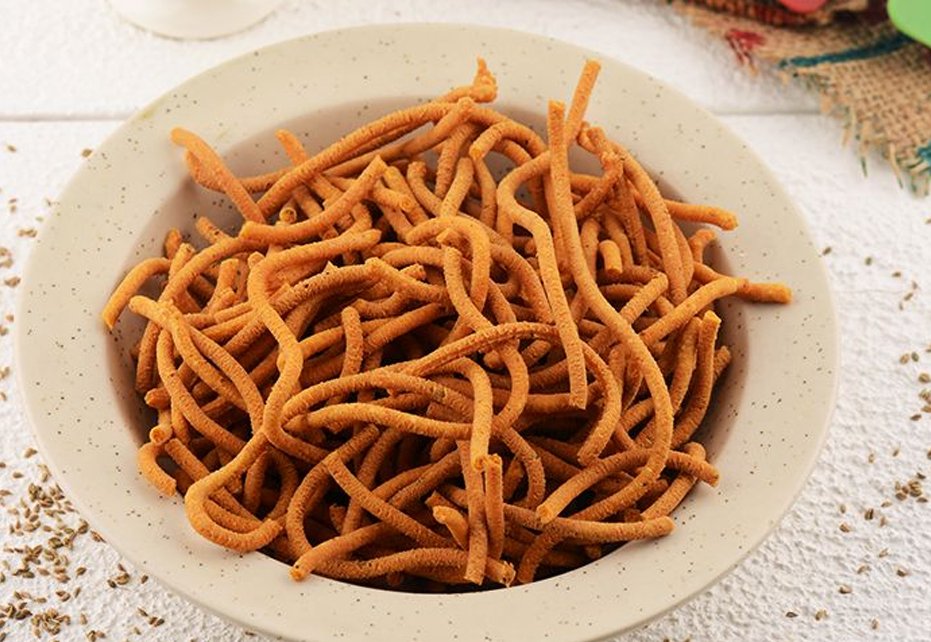 Tikha Gathiya Recipe
Tikha Gathiya is a crunchy and spicy deep fried strands made from gram flour dough. It is a household food item in Gujarat and tastes best with deep fried chillies, carrot shreds, salad and mango pickle. Follow this easy tikha gathiya recipe and make crispy and crunchy snack which can be used as main ingredients in various types of chevdas and mixtures and enjoyed on its own too.
Preparation Time: 10 minutes
Cooking Time: 35 minutes
Serves: 4
Sieve the gram flour in a large bowl. Add gram flour, carom seeds, red chilli powder, turmeric powder, black pepper powder, soda bi carbonate, 1 teaspoon cooking oil and salt and mix well.
Knead smooth dough by adding (1/4 cup + 2 tablespoons) water. Dough should not be very soft as well as not very stiff. Grease the dough using 1/2 tablespoon oil.
Take a handy Sev Machine (seviya machine). This machine comes with different type of molds.
Use a mold for thick sev (a mould with big holes) to make gathiya.
Place mold at bottom in the machine and place dough in it. Close the machine tightly.
Heat oil in a frying pan or kadai over medium flame. When oil turns hot, holding the machine over oil and turn handle of machine to force the dough through the mold. Move machine in circular motion over oil and turn handle continuously.
Fry strands of gram flour until they become light brown for around 2-3 minutes. Remove gathia from oil and drain on kitchen paper. Do the same process for remaining dough.
Crispy Tikha Masala Gathiya is ready. Keep it in airtight container and store in a cool and dry place for 15–20 days.
1½ cups Gram Flour (besan/chickpea flour)
1 teaspoon Carom Seeds (Ajwain)
1 teaspoon Red Chilli Powder
1/4 teaspoon Turmeric Powder
1/4 teaspoon Black Pepper Powder
1/2 teaspoon Baking Soda (soda bi carbonate), optional
Salt, to taste
1 teaspoon Cooking Oil + for greasing + for deep frying
1/4 cup + 2 tablespoons Water (for dough)