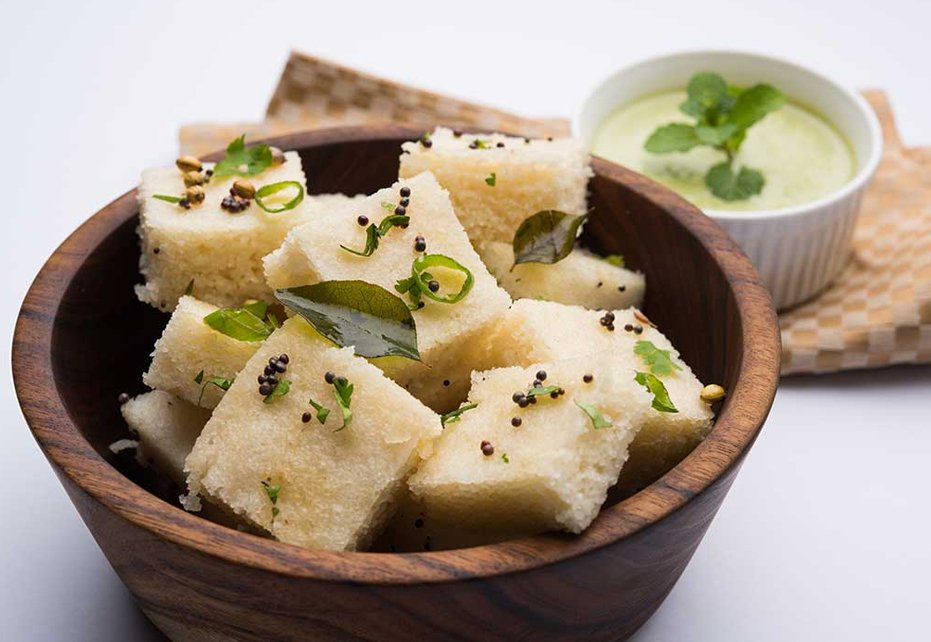 White Dhokla Recipe
Want to try Gujarati White Dhokla or Khatta Dhokla at home? Follow this easy White Dhokla recipe with step by step instructions!
Step 1 – Soak split black gram for 3-4 hours
To prepare this delicious snack recipe, soak half a cup of rice and dhuli urad dal together in water for about 4 hours. Wash the rice and soak them as well in water.
Step 2 – Grind the rice and dal together to make a thick batter
In a grinder jar, add the soaked rice and dhuli urad dal together with a half cup of water and grind to a smooth and thick batter. Now, transfer this batter into a bowl.
Step 3 – Add yoghurt to the batter and let it ferment overnight
Next, add yoghurt to this batter and whisk well. Then cover the bowl with a lid. Keep this covered bowl in a warm place to ferment overnight. To this fermented batter, add some baking soda, ginger-green chilli paste along with salt and mix the batter thoroughly. At last, add a tablespoon of oil and mix once again.
Step 4 – Cook the White Dhokla in steamer
Now, depending upon the size of your streamer, heat sufficient water in it. Then grease 2 round steel dhokla plates and pour the prepared fermented batter equally into the plates. Carefully place the plates in the steamer. Cover and steam for 8 to 10 minutes. Remove from the steamer and set it aside.
Step 5 – Prepare the tempering for White Dhokla
Now, you need to prepare the tempering for the dhokla. Begin with heating the remaining oil in a small non-stick pan. Then add mustard seeds and let them splutter properly. Add asafoetida and curry leaves and sauté for 10 seconds. After that pour the tempering over the dhoklas and spread it evenly.
Step 6 – Cut and serve
Finally cut the dhoklas in square shape and serve! Make sure you try this recipe, rate it and leave a comment in the section below.
1/2 cup rice
1 teaspoon baking soda
1/2 teaspoon crushed to paste green chilli
2 tablespoon refined oil
1/2 cup split black gram
1/2 teaspoon ginger paste
1 teaspoon salt
For Tempering
1 teaspoon mustard seeds
10 curry leaves
1/2 teaspoon asafoetida
For The Main Dish