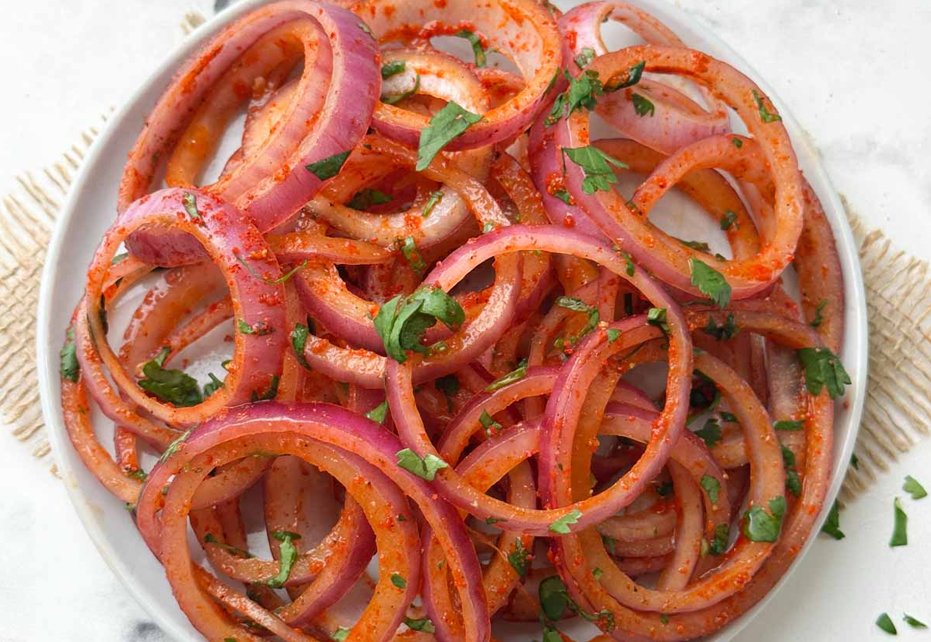 Onion Salad Recipe (Laccha Pyaaz)
Laccha pyaaz is a classic Indian onion salad recipe made with chopped onion rings, lemon juice, fresh herbs, and Indian spices. This is a perfect accompaniment to your Indian meals or Tandoori Appetizers. Vegan, gluten-free, & oil-free.
This Onion Salad adds an extra zing to any meal and can be made at home in less than 20 minutes with just a handful of ingredients.
Laccha Pyaaz is basically crunchy onion rings tossed with green chillies, fresh herbs, lemon juice and spices. Also known as 'masala pyaaz', 'onion laccha salad', 'pyaaz salad.'
In Hindi, 'Lachcha' means 'Ring', and 'Pyaaz' means 'Onion'. Hence the name Onion Ring Salad.
It is popularly served as an accompaniment in most Indian restaurants along with other condiments such as pickles, papads and chutneys.
Why You'll Love This Laccha Pyaaz Recipe
Easy & Quick to make
Spicy, tangy, and packed with flavors
Restaurant style
The perfect accompaniment to your Indian meals.
Vegan, gluten-free, keto-friendly, and no-oil salad
Ingredients for Indian Onion Salad Recipe
You would need the following ingredients to make the laccha onion recipe.
Onions: Red onions have a crisp texture and are subtly sweet enough to be eaten raw, so they're a great choice for salads. You could also make this salad with yellow, white, or sweet onions. I use 2 medium red onions in this recipe.
Coriander Leaves: Freshly chopped cilantro enhances the taste of the dish. You can even add some finely chopped mint leaves.
Green Chillies: Use finely chopped green chilies for an added kick. You can skip this if you don't want the salad to be spicy.
Lemon Juice: Freshly squeezed lime (lime) juice adds tanginess to the salad.
Spices: Basic ground spices like Kashmiri red chilli powder, chaat masala, black pepper powder and salt are used for this recipe. Chaat masala is the star ingredient of this salad, so do not skip it. You can increase or decrease the spices as per your taste.
Ingredients
2 medium red onions
chilled ice water (for soaking)
1 green chili deseeded and chopped
2 tablespoons coriander leaves (cilantro) finely chopped
½ teaspoon kashmiri red chili powder
½-3/4 teaspoon chaat masala
¼ teaspoon black pepper or to taste
salt to taste
1 tablespoon lemon/lime juice (or vinegar)
Variations
Tomato onion laccha salad – add sliced (or chopped) tomatoes to this onion laccha salad. All other steps will be the same.
Mix veg laccha salad – add sliced tomatoes, cucumber, carrots, and bell peppers to this onion salad. All other steps will remain the same. Adjust the spices.
Achari laccha pyaz – Add readymade or homemade achar masala (pickle masala) to the onion rings and mix. It tastes so delicious.